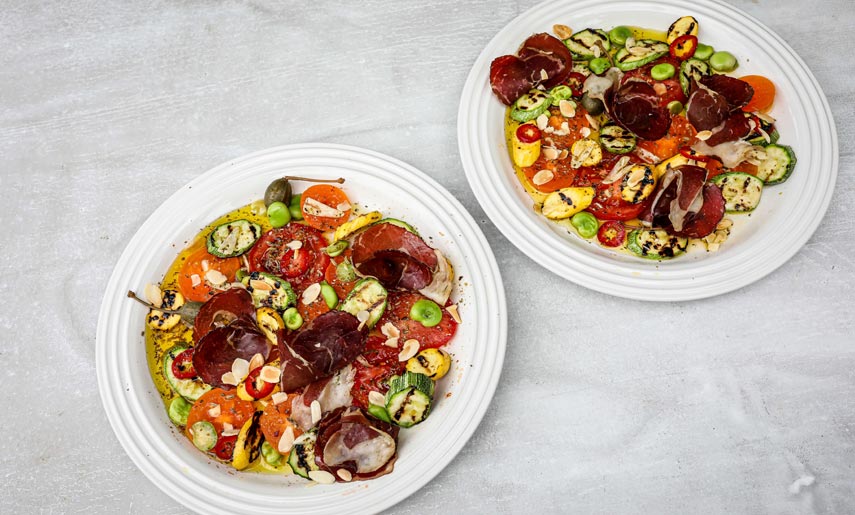 Bresaola and Chargrilled Courgette Salad!
This truly is summer on a plate – there's a charred depth that combines with the vibrant, light notes of succulent vegetables and zingy chilli heat. If you are looking for a colourful way to serve charcuterie al fresco then look no further. Grilling courgettes and serving with toasted almonds also brings out their inherent, delicate, nutty flavour.
Method:
Preheat your BBQ grill and thinly slice your courgettes. Season with salt and pepper.
Grill until lightly charred and softened for about 5-6 mins turning occasionally and being careful with them when moving so as not to let the fall between the gaps. Whilst they are hot toss in a bowl with oregano, all the olive oil, chilli and garlic.
Plate up this seasonal salad by arranging the chargrilled courgettes, caper berries, room temperature sliced tomatoes and broad beans on a plate.
Next fold your bresaola into flowers and plate up. Finish with a scattering of toasted almonds and a generous drizzle of all the leftover warmed olive oil that's been lightly infused with garlic, oregano and chilli. Serve with grilled focaccia or sliced ciabatta.
This dish was barbecued using the Outdoor Chef Davos 570 G Gas BBQ. For more information and prices, click here.
Ingredients:
Serves 2
1 packet of Real Cure Co Bresaola
2 courgettes, sliced
4-6 heritage tomatoes, sliced
6-8 broad beans, shelled and blanched
½ red chilli, thinly sliced
2 cloves of garlic, thinly sliced
1 tbsp toasted almond flakes
3 tbsp extra virgin olive
½ tsp oregano
6 caper berries
Sea salt and cracked black pepper