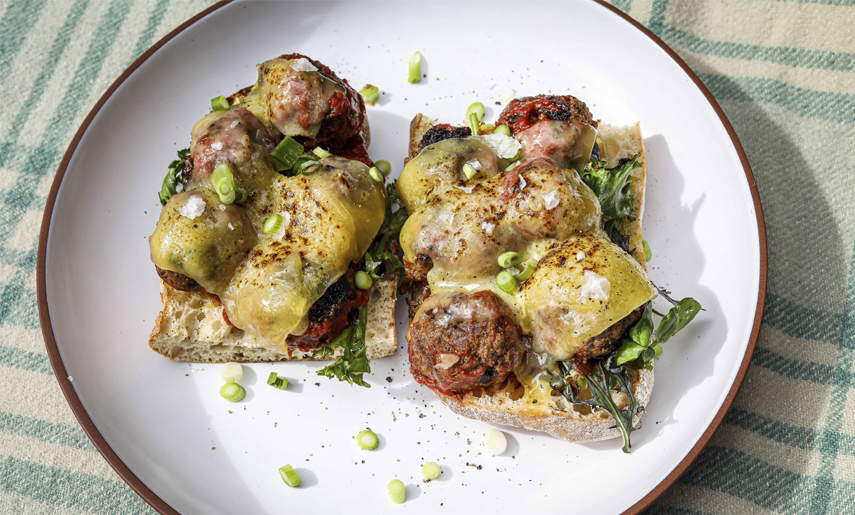 This Italian inspired meatball marinara open sandwich is a real treat. The meatballs cooked on the BBQ caramelise perfectly to provide an umami sweet crust and as soon as they're cooked and you toss them in the rich tomato sauce they almost shout out for grilled cheese. You can cook this whole recipe in the Outdoor Chef kettle BBQ and it makes a great alternative to burgers for a family friendly meal.
Method:
Get your grill up to 200˚C and then oil your meat balls in a small bowl. Place onto the grill and cook for 15-18 mins turning regularly.
While the meatballs are grilling toast your ciabatta roll. Once the meatballs are cooked warm some tomato sauce in a small saucepan over the grill and lightly toss them in it to evenly coat and keep moist. Season well with salt and pepper to taste and then build your Marinara sub.
Start with a pinch of salad leaves and cover with the grilled meatballs, sauce and a large slice of cheese. Close the lid of the BBQ and allow the cheese to melt for 2-3 mins or finish with a blow torch. Garnish with spring onions and extra black pepper.
This dish was barbecued using the Outdoor Chef Davos 570 G Gas BBQ. For more information and prices, click here.
Ingredients:
Serves 4
1 ciabatta
2 large slices of Quickes Cheddar
10 beef meatballs
1 tbsp olive oil
4 tbsp tomato sauce
Handful of salad
1 spring onion, sliced