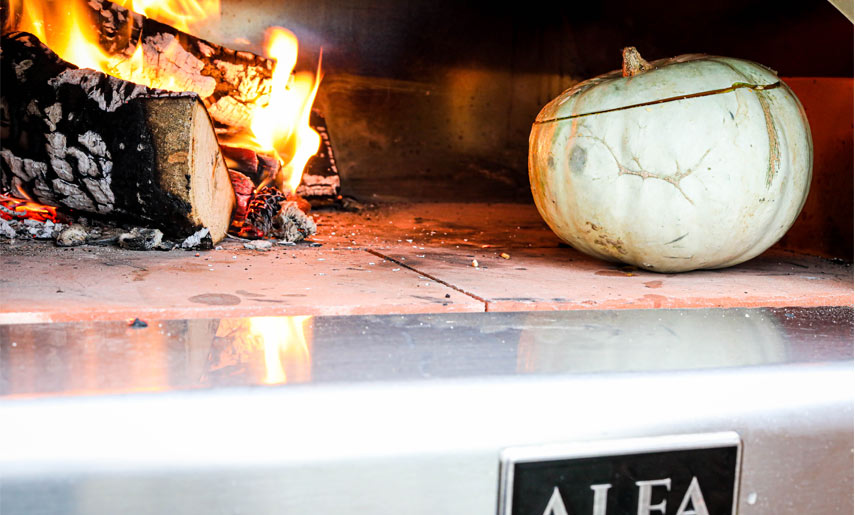 An autumnal gem – Stuffed Squash!
This rustic stuffed squash can be roasted whole in the pizza oven for a vegan centre-piece. The stuffing fills the squash with a sweet nutty aroma and the hazelnut topping is delicious with the dried cranberries beneath.
Method
Preheat your oven to 300˚C and move the fire to one side.
Remove the top of your squash and scoop out the seeds (toast theses with some olive oil in the oven for a snack while you prepare the rest)
Then in a food processor blitz your cauliflower and kale. Mix with grated parsnip, cranberries, chopped sage, walnut oil and sea salt. Stuff this mixture into your squash cavity.
Top with blitzed hazelnuts.
Place the lid back on the squash and roast for 20-25 mins in the coolest part of your oven near the door. Turn regularly and allow the skin to blacken. The squash will steam and roast at the same time. Remove the lid for the last 5 mins of roasting.
This dish was roasted in the Alfa Forni 5 Minuti. For more information and prices, click here.
Ingredients
1 large squash, seeds and pulp removed
1 caulifower, blitzed into rice
1 parsnip, grated
100g kale, blanched
100g dried cranberries
100 g hazelnuts
6-8 sage leaves
 2 tbsp walnut oil
1 tsp sea salt flakes