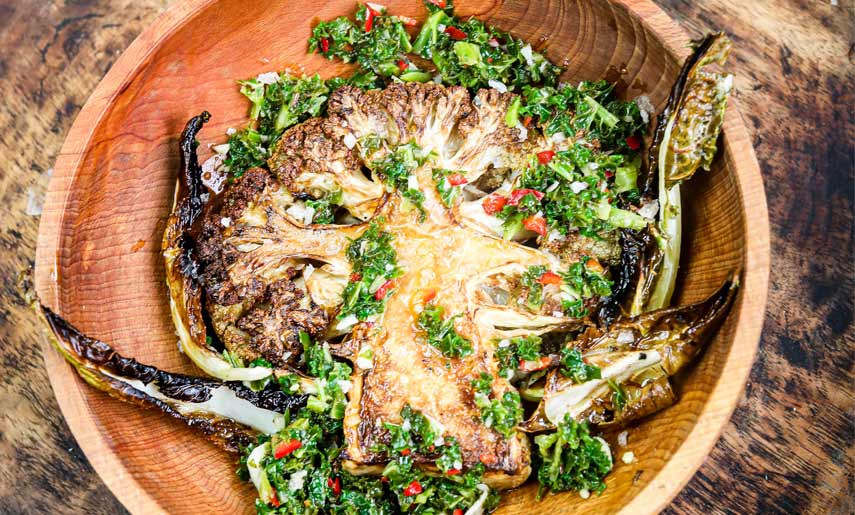 One of James' signature dishes – Wood-grilled Cabbage and Chestnut Butter!
This is one of my signature dishes and it works a treat in the pizza oven. The kale chimichurri offers something earthy and metallic to go with the cruciferous cauliflower roasted in nutty brown butter.
Method
Preheat your oven to 300-350˚C. Move your fire to one side and in a cast iron skillet melt your butter for 1 min.
Trim two large steaks from the core of your cauliflower and keep the remaining florets for a pizza oven cauliflower cheese or cauli rice later.
Add cauliflower steaks into the bubbling butter and cook for 4-5 mins on each side along with some leaves.
Make a salsa by blitzing all the kale, garlic and coriander in a food processor with chilli, oil and lime. Add in the chopped shallot and season to taste.
This dish was roasted in the Alfa Forni 5 Minuti. For more information and prices, click here.
Ingredients
X2 6 oz cauli steaks
100g salted butter
For the kale chimichurri
100g kale, blanched
2 cloves of garlic, finely diced
2 tbsp chopped coriander
½ shallot, finely sliced
1 tbsp diced red chilli
Juice and zest of 1 lime
2 tbsp olive oil