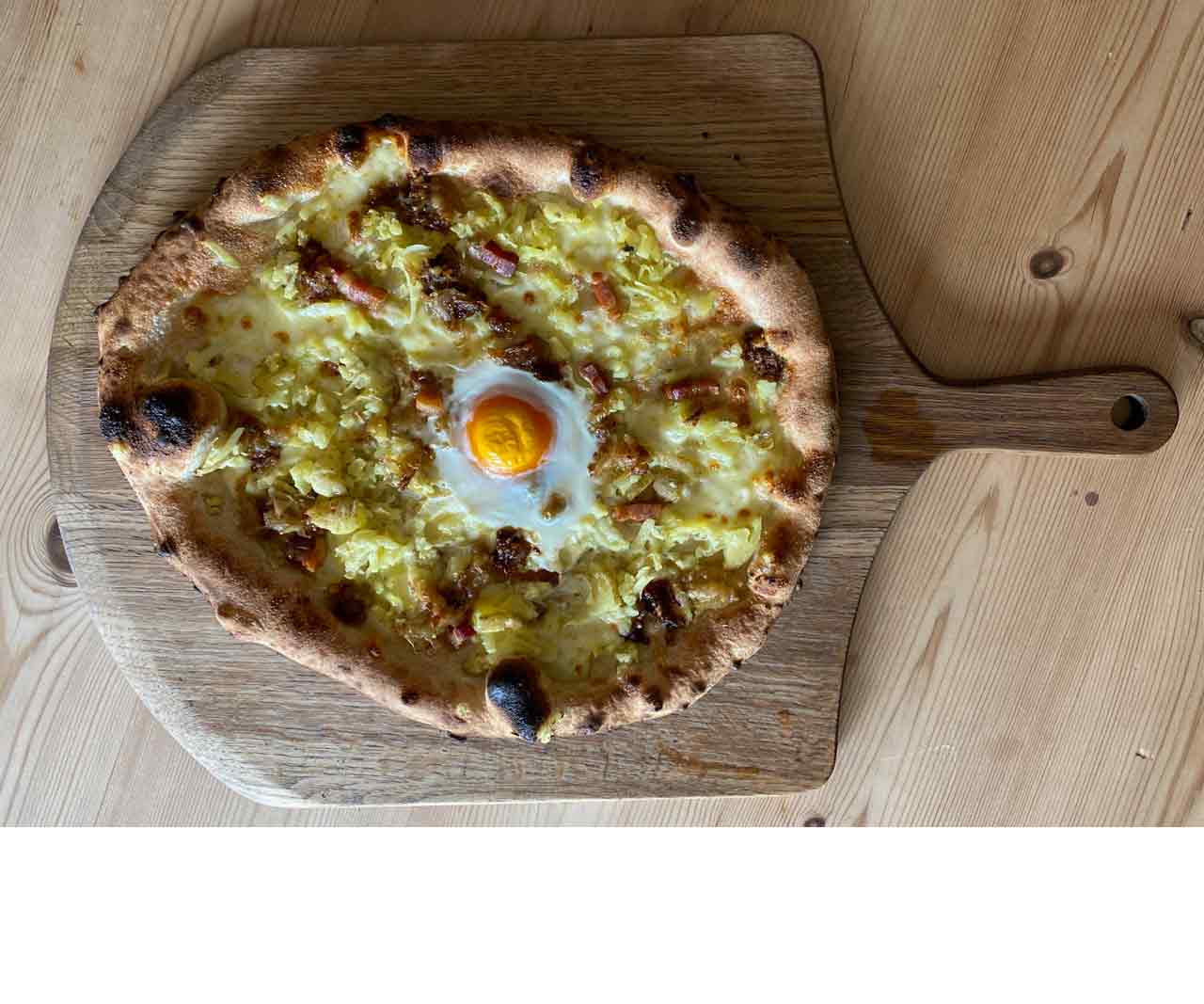 What's more homely than a warming, carb-frenzied, cheesy pizza that takes inspiration from our Alpine friends. The rosti pizza!
Yet another white pizza designed to wrap you up in a rich, comfy and decadent way! This amazing autumnal recipe will fill any empty stomach – potato, smoked pancetta, mozzarella – yum!
Pizza dough
This recipe uses Associazione Verace Pizza Napoletana recipe which can be found here.
Method
Boil sliced charlotte potatoes (around 5 pending the size for 1 pizza) for 10 / 12 mins. Drain and leave to cool and grate.
Slice around 10 banana shallots (enough for 1 pizza) with a mandolin and slowly cook in butter and olive oil until soft and brown – it should resemble an onion confit. Part way through cooking, add 3 sliced garlic cloves.
Stretch the pizza dough over plenty of semolina and drizzle with a little olive oil
Cover the pizza with shallot confit and grated potatoes. Add mozzarella, smoked pancetta and crack an egg in the centre of the pizza.
Pour a little basil oil over the top of the pizza.
Bake in your pizza oven at 500 degrees C for around 90 seconds, turning frequently.
This pizza was baked using the Alfa Forni 5 Minuti. For more information and prices, click here.
Ingredients
Charlotte potatoes
Smoked pancetta
Mozzarella
Egg
Basil oil
Pizza base
Associazione Verace Pizza Napoletana recipe