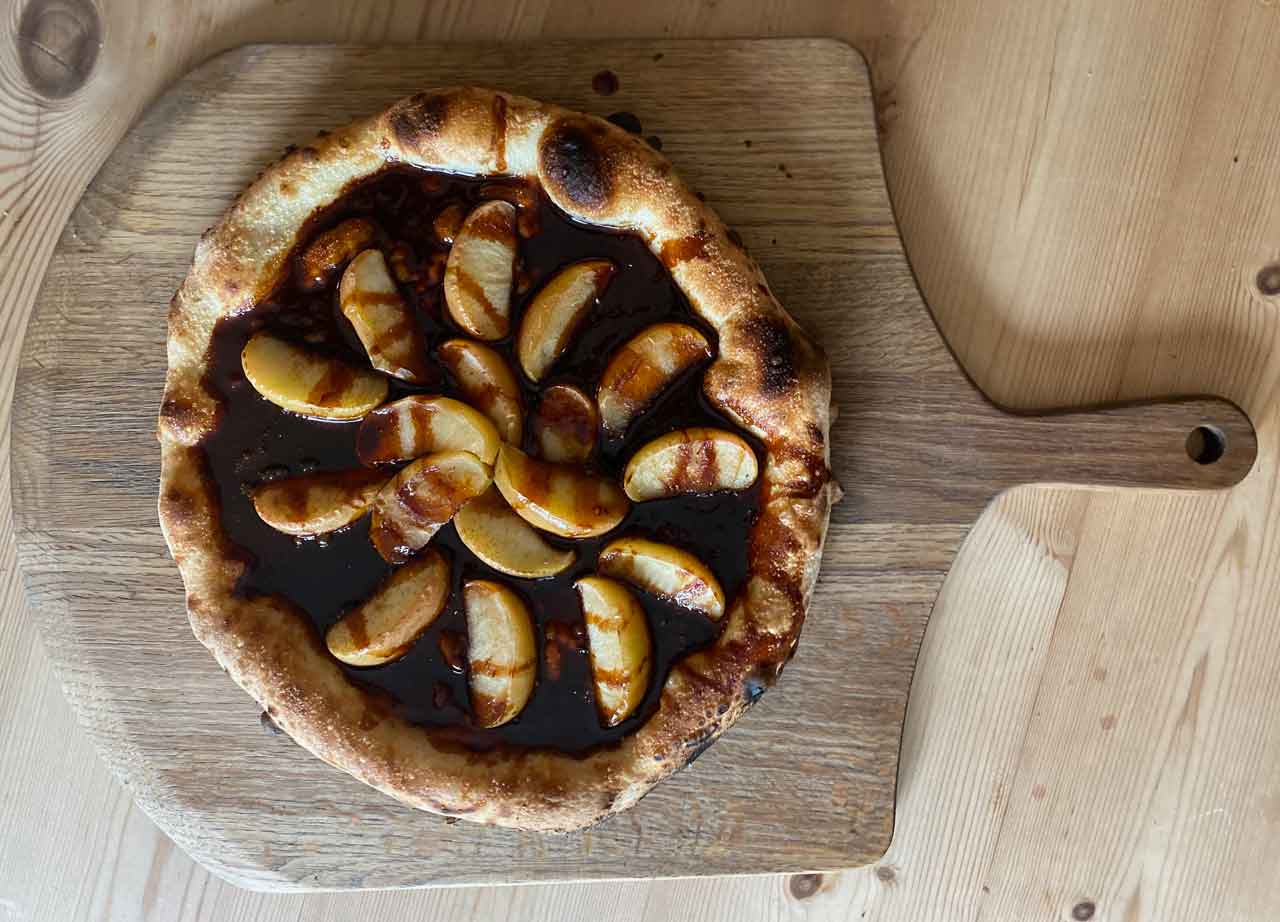 A Halloween inspired sweet pizza – Toffee Apple! Caramelised apples with cinnamon, who needs teeth shattering apples on a stick?!
Autumnal dessert pizzas are the way forward! Diversify away from savoury toppings and go sweet. Inspired by Halloween, this toffee apple pizza will appeal to kids and adults alike – just ditch the booze for the youngsters!
Pizza dough
This recipe uses Associazione Verace Pizza Napoletana recipe which can be found here.
Method
Cut the apples into segments and cook on a low heat in a saucepan with a little water until soft.
Using a thick bottom pan, caramelise the sugar on a low heat until brown, don't overheat nor stir.
Add the butter and a glug of calvados or rum (we used Don Papa Rum that's flavoured with vanilla). It will bubble ferociously and is VERY hot – be careful not to touch the caramel.
Stretch the pizza dough over plenty of semolina directly on a peel before adding the topping. The caramel may melt the base so wait until the sauce has cooled a little.
Cover the pizza with the caramel sauce and add the apples, sprinkle generously with cinnamon.
Bake in your pizza oven at 500 degrees C for around 90 seconds, turning frequently.
This pizza was baked using the Alfa Forni 5 Minuti. For more information and prices, click here.
Ingredients
Caster sugar 150g
Butter 75g
15ml water
2 apples, cored
Cinnamon
Rum or Calvados
Pizza base
Associazione Verace Pizza Napoletana recipe